We're about to get Major League Baseball back. Right?
Sure, it'll be without the players who opt out of the season. And without the players who test positive for COVID-19. And without fans in the stands. And without about two-thirds of the schedule.
But still: baseball! Give me any semblance of normalcy right now. For most of the COVID era, I've been watching marble racing to get a live sports fix. (Go O'rangers!)
…
When COVID became a full-fledged world health emergency, sports leagues and competitions handled it based on where they were in their seasons.
Those who were interrupted mid-season (like the N.B.A., the N.H.L., and most soccer leagues) scrambled to put plans in place to move forward. Other upcoming competitions determined that they were certain to be affected, and pushed dates far into the future (N.C.A.A. sports, minor league baseball, Euro 2020, the 2020 Olympics). Others still could see the potential impact coming, but haven't wanted to publicly acknowledge anything needs to change (hey there, N.F.L.).
And then there's baseball. The 2020 season was about to start, but never did. (Even M.L.S. got a few games in before they had to pause). Because of this, baseball is in the unique position of being able to plan a modified season from scratch that accommodates COVID and fully preserves the integrity of the competition. This is kind of freeing: for one season (please, let it be one season), baseball can try something different. They're forced to.
This is a golden opportunity.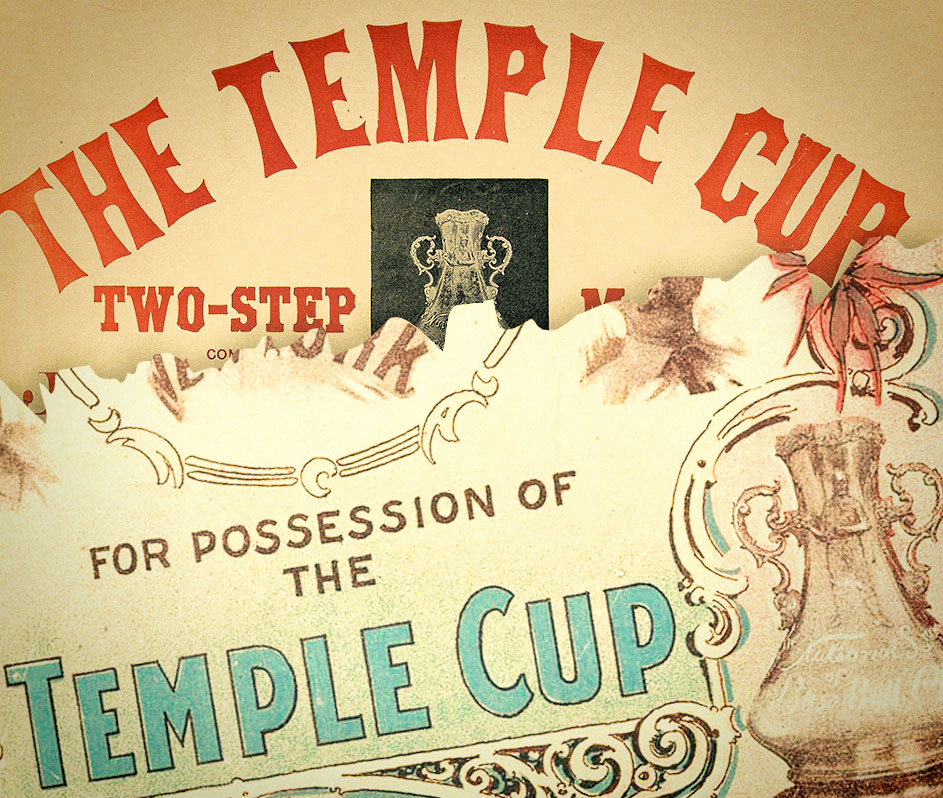 The leagues with interrupted seasons didn't have this luxury. Some, sadly, had to abandon in-progress competitions. Others are already back to playing with intense rule changes, empty venues, bubbles and affected rosters. Unless things get drastically worse, they will complete their seasons, and each will ultimately will crown a champion–but not under the same rules the competition began with. This leaves any champions that weren't already obvious (cough, Liverpool) with a bit of an asterisk. Through no fault of their own, the championships won in the N.B.A., N.H.L. and most soccer leagues won't feel the same as a normal championship would. How could they? The playing field was quite literally altered during the competition. It's the best we can do, and it's admirable, but it doesn't feel quite right. Everything is clouded by COVID.
But since the M.L.B. season never started, the powers that be could sidestep this problem. Baseball could, theoretically, create a drastically new one-year-only competition format that works with COVID realities–a competition that's shorter, safer, and fair to all participants from game 1. They could crown a 2020 champion via a season that will have unbroken integrity. With some marketing and some luck, they could turn this situation into something incredibly special: a one-time departure from the norm that creates new drama and offers new way to enjoy the game.
(Yes, I realize this isn't the actual plan. I'll be happy with whatever we get. But I'm going to press on.)
The Competition
Baseball has 30 teams, divided into six divisions of five teams each. For this special one-off season, I'm going to adjust that. It's already mid-July, we only have time for about 60 games, and we need to keep travel to a minimum. Here's what I'd do.
Just for this season, forget leagues and current divisions. Re-form everything based purely on geography. We'll go with five 6-team divisions.
Accent Division: Red Sox, Yankees, Mets, Phillies, Pirates, Blue Jays
Humidity Division: Marlins, Rays, Braves, Nationals, Orioles, Reds
Dive Bar Division: Tigers, Indians, Brewers, Cubs, White Sox, Cardinals
Truck Stop Division: Diamondbacks, Rockies, Twins, Royals, Rangers, Astros
T-Shirt Division: Mariners, Giants, A's, Dodgers, Angels, Padres
Each grouping attempts to honor geographical proximity (as best as possible) while also preserving some natural rivalries.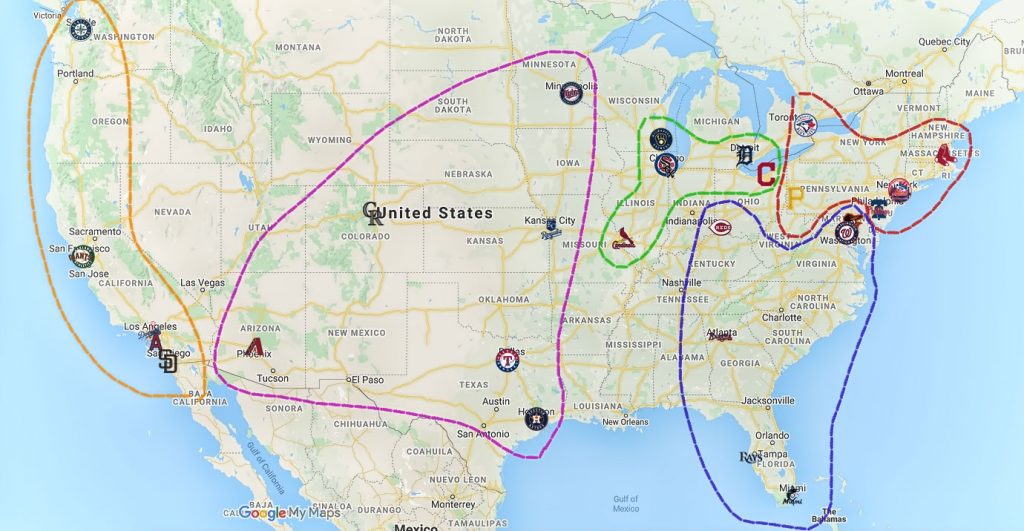 (And yeah, we'd use a DH across the board. I don't love it, but it's necessary.)
The full 60 game regular season would then be contested purely within these divisions. Every team plays 12 games against its division-mates: 6 home and 6 away. Baseball is played every day, throughout the day: first pitches at 3pm, 6pm and 9pm (or noon, 3pm and 6pm on the West Coast). We're all hanging out at home and desperate for sports; a captive audience is waiting virtually all the time. And nobody has to get to or from games, making the timing that much more flexible. Show baseball all day long!
The balanced schedule sets us up for pure, epic division races, and a bunch of compelling narratives (White Sox vs. Cubs v. Cards, Red Sox vs. Yanks vs. Mets, Dodgers vs. Giants vs. A's, etc.) By the end of September, we have five division winners and five runners-up. Those ten teams go to the playoffs.
Here's where we take the uniqueness up a notch: our ten playoff teams have a single-game round robin tournament. Each club plays the other nine exactly once. The entire thing is done at a neutral venue (i.e., at the home park of a club who didn't make the playoffs.), three games a day over two weeks. (There are big bonuses for wins in this round, just to make sure everybody is incentivized even if it becomes obvious they're going to end up near the bottom of the round robin table. On the final day, round robin matchup #10, all five games are played at the same time, World Cup style.) Call it… the X Games. Wait, no. Call it the Intensity Round, sponsored by Progressive (or whatever).
The two clubs with the best records at the end of the round robin advance to a traditional best-of-seven championship series. I'm not calling it the World Series, though. Because this one-off, special competition already has a name, and a bad-ass trophy: the Temple Cup.
The Championship
I wrote a bit about the Temple Cup during my Soccer Out of Context series (in which I designed soccer-style jerseys for every M.L.B. club and went deep into soccer and baseball uniform traditions – shall I mention it's now an e-book, it comes out next week in Amazon Kindle and PDF formats, and you can pre-order it for just $5? OK, I will!). When the National League was dominant in the 1880s, there was no post-season series for any club; the league champion was simply the team with the best record. But even without the need for one, people craved a season-ending series.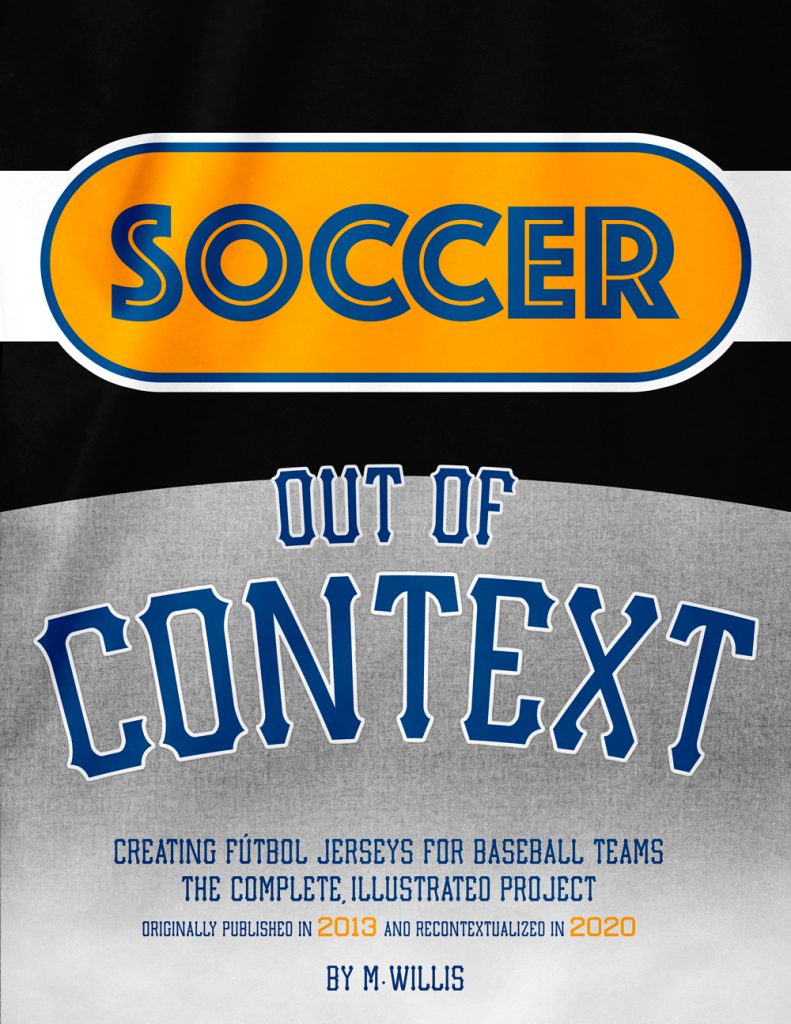 Here's an excerpt from Soccer Out of Context:
Though that resolution [a champion crowned by season record] was tidy and fair, it wasn't favored by fans or club owners; post-season series were more exciting and gave clubs more gate opportunities. So, enter the Temple Cup: a post-season series between the first and second-place regular-season finishers. Did it change who the "champion" was? Not really. Was it contrived? Pretty much, and it was generally treated as such by players. But it was kind of cool: the Temple Cup itself was an actual​ ​beautiful silver cup​, donated by the owner of the Pirates, William Temple. The idea was that if the Cup was won three times by any club, they would get to keep it; and that would be the end of the tournament for good.
How great is this? It's an alternative championship competition, pre-World Series, complete with beautiful hardware (currently in the Hall of Fame, awaiting a little polish). It's 100% ready to plug in to this season. We wouldn't have to worry about calling the champions of the 2020 M.L.B. season the World Series winners. We wouldn't have to give them the trophy with all the pointy flags, and then debate for decades about if they were a worthy champion. Instead, we can resurrect the Temple Cup for this season, and award it to the champions of this unique, one-off format! It's a trophy to suit a season unlike any other.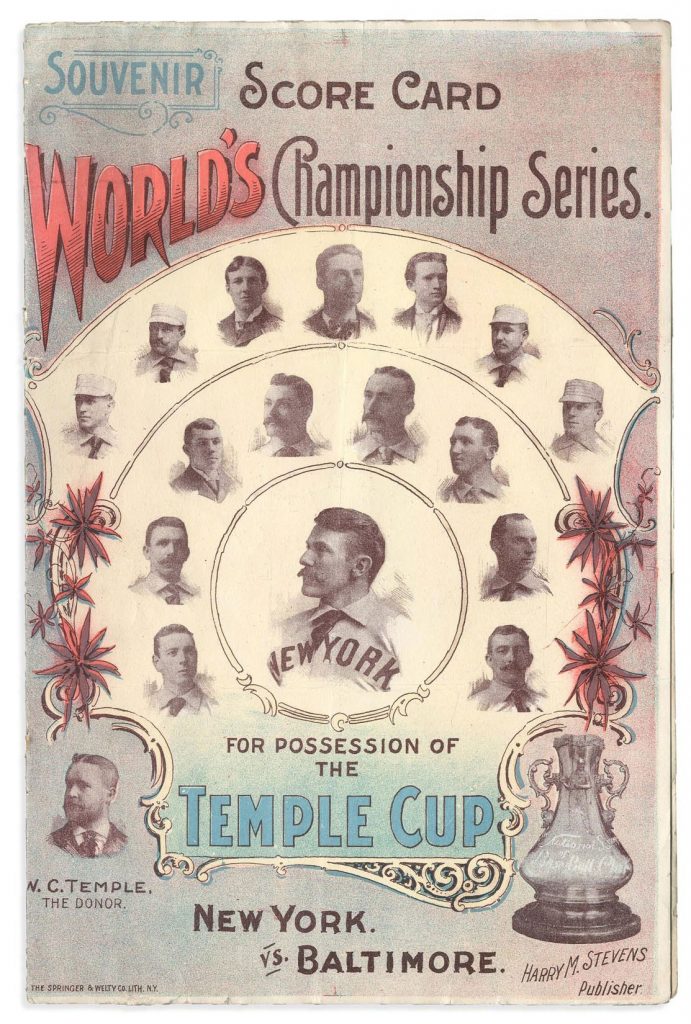 Things I love about this concept:
• The Temple Cup already exists! It's like the Stanley Cup of baseball! We could watch a baseball club hoisting a cup, drinking beverages out of it, etc. You can't do that with the current trophy without risk of impalement.
• This honors baseball's history, especially a mostly forgotten chapter of such. If you read Soccer Out of Context (or just Wikipedia, but I must recommend my book), you'll learn that the Cup has been won by the Orioles, the New York Giants, and Cleveland – but not the Indians, the Cleveland Spiders. With the real and welcome possibility that Cleveland will change its moniker soon, bringing back Spiders-adjacent history seems appropriate.
• What's more, the Temple Cup was traditionally played between the first and second-place finishers in the league season. Our format, which gives the top two in the playoff round robin a chance at the Cup, seems like an appropriate way to honor that legacy.
• "The Beer that Helps Players to Win"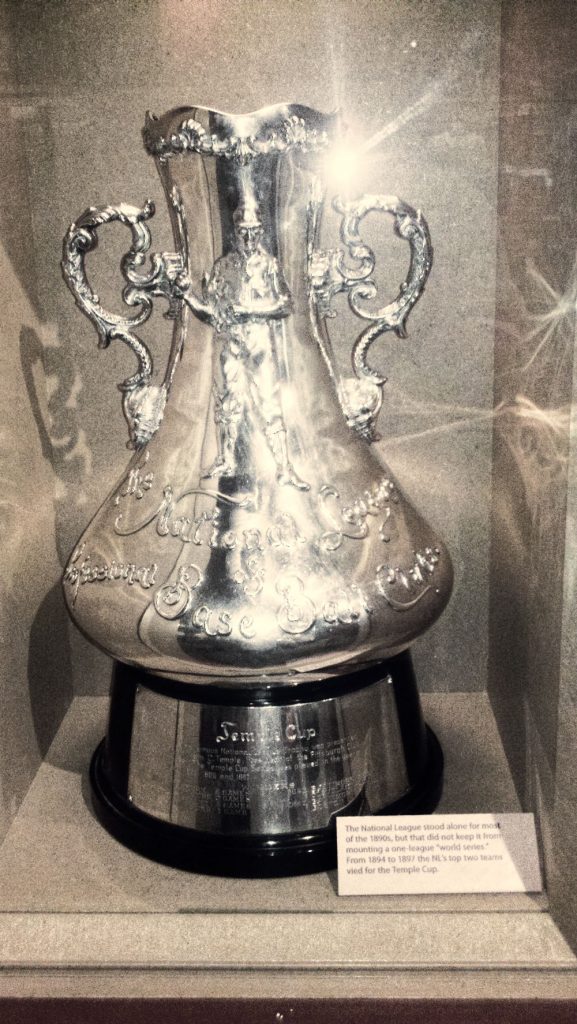 • Crowning a Temple Cup champion in 2020 means that there won't be any pressure to call the league champion the World Series winner, or to apply an asterisk to anything, or waste time debating whether a 60-game champ is equal to a "regular" 162-game champ. It's clear: this is a different competition with different rules and a different trophy. We'll get back to the World Series next year–and no matter who wins the Temple Cup in 2020, the Nationals would still be defending World Series champs in 2021.
• Also, we can keep the Temple Cup around after this year! The original notion was that the Cup would be competed for until it was won by any club three times. At that point, the club could keep the Cup forever. This is an incredible concept! Let's keep the Temple Cup and find a way to award it every season–even if it's just given to the World Series winner that year. After three Temple Cup wins, a club would keep it. Imagine the layers of drama and bragging rights that this would bring to annual championships! And once the Cup was awarded, a new three-wins-and-keep-it trophy could be introduced, complete with what would surely be lucrative sponsorship rights. (The Giamatti Cup, brought to you by Chevrolet; the Budweiser Challenge Cup, etc.). This has already happened once before; the Temple Cup actually replaced the now-lost Dauvray Cup which was thrice-won, kept, and eventually misplaced, by the careless Boston Beaneaters in the 1890s. (It's fine, it's not like Boston was about to enter a decades-long trophy drought or anything. Didn't need it.)
…
So, to sum up, the Temple Cup plan provides:
• short-season games that carry the weight of playoff baseball, all season long
• intense, geographic rivalry matchups, all season long
• baseball day and night, helping entertain a nation and hook new fans
• a fresh, easy-to-understand playoff format where every team is guaranteed a bunch of games, as well as matchups against clubs they haven't met during the season
• a beautiful, interesting new championship trophy that honors baseball's history
• a chance to go back to regular traditions next year without worrying about continuity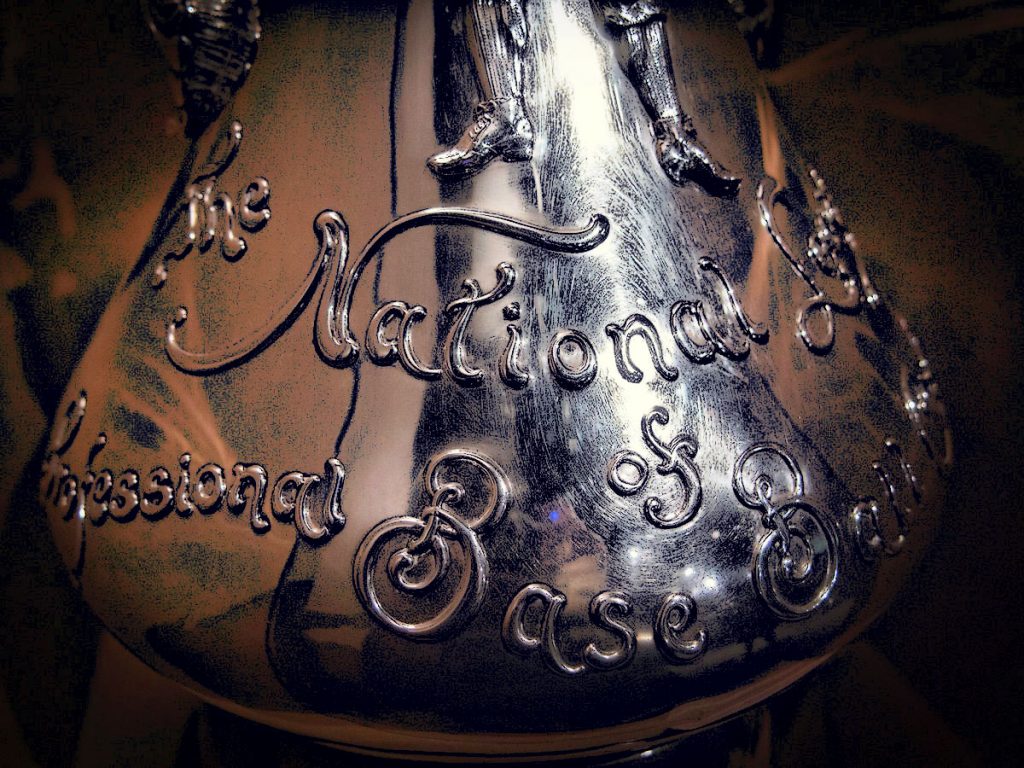 Baseball doesn't change much. Moreover, because of tradition, it usually doesn't have license to even try new things. For an aging sport, this is an incredible opportunity. COVID-19 doesn't have to mean lesser versions of the competitions we love. Let's use this moment to add compelling, permanent wrinkles to the sporting narratives we live for.
(And let's get those those Spiders another trophy.)