A winter World Cup + American Soccer + The Waldo + Holiday Sweaters = The Walliday
No point in sugar-coating it. Four or so years ago, I was pretty bummed. The US Men's soccer team was on the outside of that summer's World Cup, looking in. Months earlier, the team's qualifying campaign ended with an excruciating loss to Trinidad and Tobago. That defeat (combined with other results from around Concacaf) seemed unbelievable. The States hadn't missed a World Cup since 1990. As a fan, I was ready to travel to support the team as I had for the previous three World Cups. As the owner of a soccer apparel business, I had big plans to produce a premium US-themed World Cup jersey. In a flash, that project had lost its primary reason for being.
I ended up watching the Cup in my backyard (it was still fun). And Clean Sheet Co., my apparel company, launched the jersey project anyway. The pre-funding campaign was ambitious, and it almost happened thanks to some incredible support, but we didn't quite get there. Turns out the lowest point for US Soccer in a generation was a tough time to launch our most ambitious American soccer product. Our 2018 World Cup apparel was fun to produce and well received, but without the States, it wasn't the same.
And then… well, you know. Soccer apparel became, if not the least important thing out there, certainly less important than trying to navigate everyday life. Clean Sheet Co. endured through the Covid-19 crisis, pausing briefly during the darkest part, and popping back up to celebrate the USWNT's fantastic fourth star. We also took on on a special Chicago soccer project that helped catalyze a branding revolution in MLS. But it's been a relatively quiet time.
Until now. The world is still confusing, but one thing is certain: the USMNT has qualified for the World Cup to be held later this year in Qatar. That means Clean Sheet Co. is back. And we know exactly how to celebrate.
Not with a jersey. (Not quite yet, anyway.) With a sweater. The USA Sweater. (That's the official name; I can't stop calling it the Walliday.)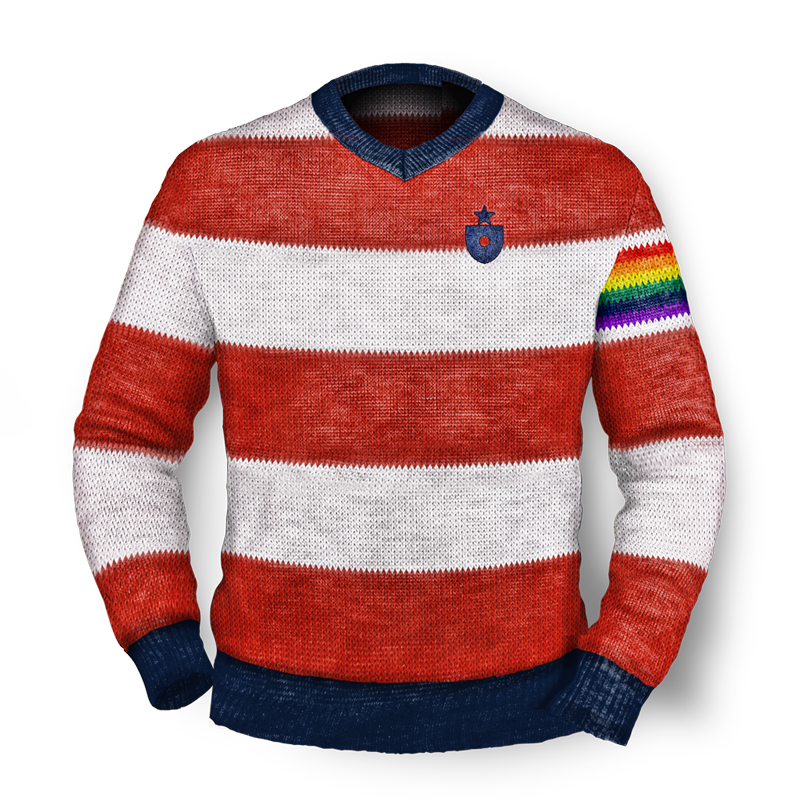 It's too perfect. Why?
1. A winter World Cup will be cold.
It's going to be chilly here in the northern hemisphere when the matches kick off. I'm going to be at some watch parties that may or may not be outdoors. A sweater makes perfect sense.
2. The holiday season is now "loud sweater" season.
The Qatar World Cup falls almost exactly during the American holiday period, from Thanksgiving to Hanukkah and Christmas. Holiday sweater culture has gotten wild in the last decade or so here in the States. And while I don't think ours gives off "so bad, it's good" holiday sweater vibes, I do think it's outlandish in the best way. And what's better: give or take a navy or a green, the colors match up really well with those of the holiday season. It's a quick journey between patriotic American soccer fan and walking candy cane.
3. The "Waldo" has always been our nation's greatest soccer identity.
Who knows why the powers that be have resisted, but the Waldo – hooped red and white stripes, with navy trim – is the best aesthetic for American soccer. I'm not alone in this opinion. Our jersey project from 2018 was built on this premise too. Who knows when the US will officially don the hooped Waldo design again, but until then: there's the Walliday sweater.
That's a pretty compelling case, as far as I'm concerned. It's the perfect comeback project, for the US men's team and for us.
At Clean Sheet Co., we've never made a sweater before (holiday or otherwise), but that won't stop us. If you know our history, you know it'll be high quality and uniquely beautiful–and that I'll personally stand behind it. We've been sourcing factories and materials, and are on track to produce a batch of sweaters to ship in September 2022, well before the Cup kicks off (and before holiday gift-giving season).
The pre-funding campaign begins today (Tuesday, May 17) and runs through July 4th (seemed appropriate). That gives us a little less than 50 days to get at least the 250 pre-orders we'll need to make the USA Sweater. I know we can get there. Once I know exactly how many we need to make, we'll lock in final details like fabric mix (very likely a poly/cotton blend), production and finishing locations, and other special details. To stay on track for a fall ship date, we need to start the campaign now. So let's go!
One more thing: you probably noticed the rainbow armband integrated into the design. Symbols are powerful. The raw potency of colors, shapes, flags and symbols to stir emotion is one of the founding pillars Clean Sheet Co. is built on. But it's impossible to ignore that those emotions aren't always used in constructive, positive ways.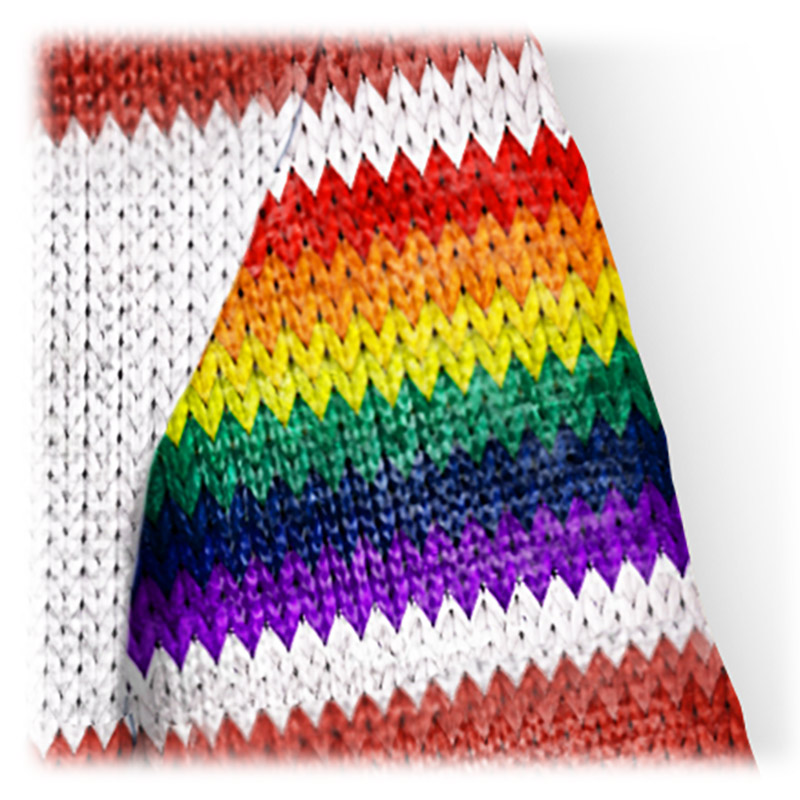 As Clean Sheet was going through a quiet period, so much has happened in our world to convince me that our company needs to be more overt about the kind of passion we advocate for. And to be clear: we openly and proudly support the rights of all human beings to live in peace, with justice and without fear. Unfortunately, there are those that cloak hatred, bigotry, intolerance and aggression in club and national colors (of all kinds).
The rainbow armband is a reminder of the kind of world we want, and expect, to live in: filled with national pride, but also with humanity and respect for all ethnicities, nationalities, and orientations. That's what soccer culture has always meant to me–above all, it's an incredible celebration of human diversity. The USA Sweater's rainbow armband is literally woven into the design, so there can be no mistake: wearing this sweater means supporting the beautiful, diverse, tolerant and accepting side of American patriotism. We plan to do something like this for every product we make going forward.
Thanks for supporting #TheWalliday!