Digital Leadership
The Garfield Group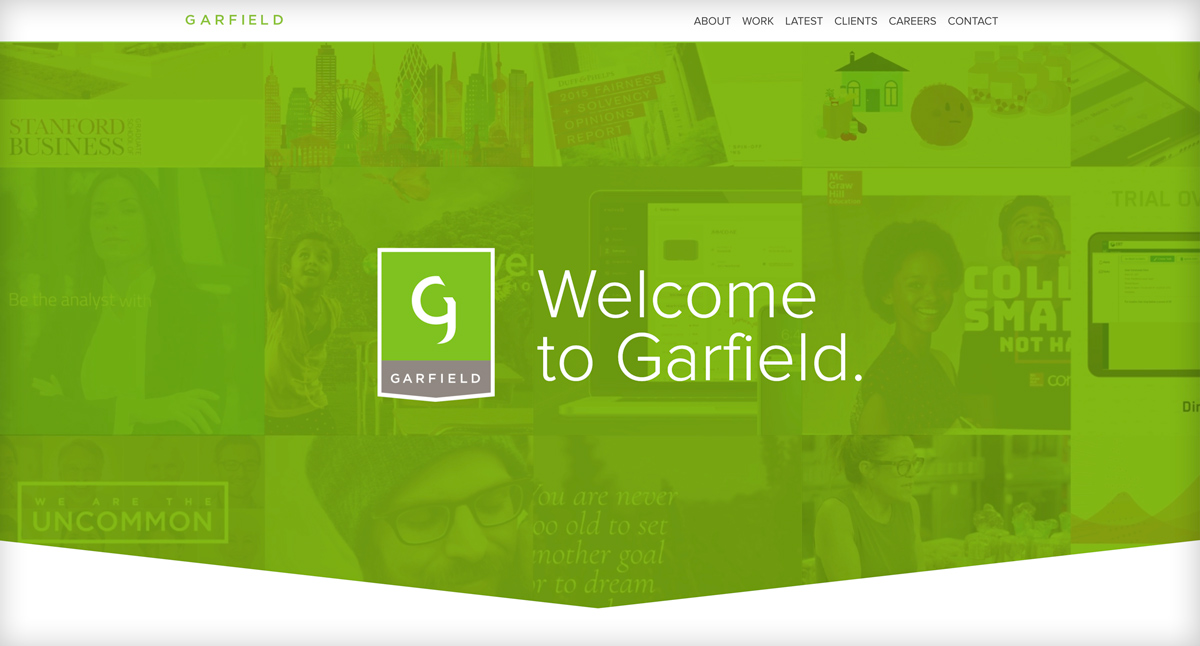 The Garfield Group, a marketing agency in Philadelphia, needed someone to take their digital offerings to the next level. Over two years, I architected that change. 
Like many agencies, the Garfield Group does a little of everything. Branding and identity work. Writing. Print collateral. Public Relations. SEO and SEM. And, of course, a ton of design. Their digital capabilities, however, were just beginning to blossom.
In late 2018, Garfield brought me in as a consultant to help them manage two large web builds. I had a chance to observe the processes and workflows they had in place for digital work, and they had an opportunity to get to know me. After getting acquainted, we decided to work together on a regular basis. In 2019, I joined Garfield Group full time to lead and transform their digital operation. As the team's first-ever Senior Director of Digital Strategy, I did just that.
Garfield's client base is made up of a healthy mix of industries: healthcare and pharma, higher education, finance, tech and media. Immediately, it was clear to me that Garfield was adept at understanding the unique needs each client presented – but was not often, on the digital side, presenting clients with opinionated digital options. Client decisions or assumptions often defined builds from the start – meaning Garfield was frequently adapting to work within technical requirements that were already set in stone. The result: no two client builds were similar. Platforms, environments and processes varied from project to project. Development talent was sourced on a project-to-project basis. Garfield had little experience creating an internal digital ecosystem, or a rock-solid set of processes, that could be used and re-used across projects.
My job, then, was three-fold:

• to direct ongoing digital projects
• to help the agency bid on, and win, new business
• to re-imagine and re-architect the way the agency's digital processes worked

I did them all, simultaneously, while learning (for the first time) exactly what makes agency life unique.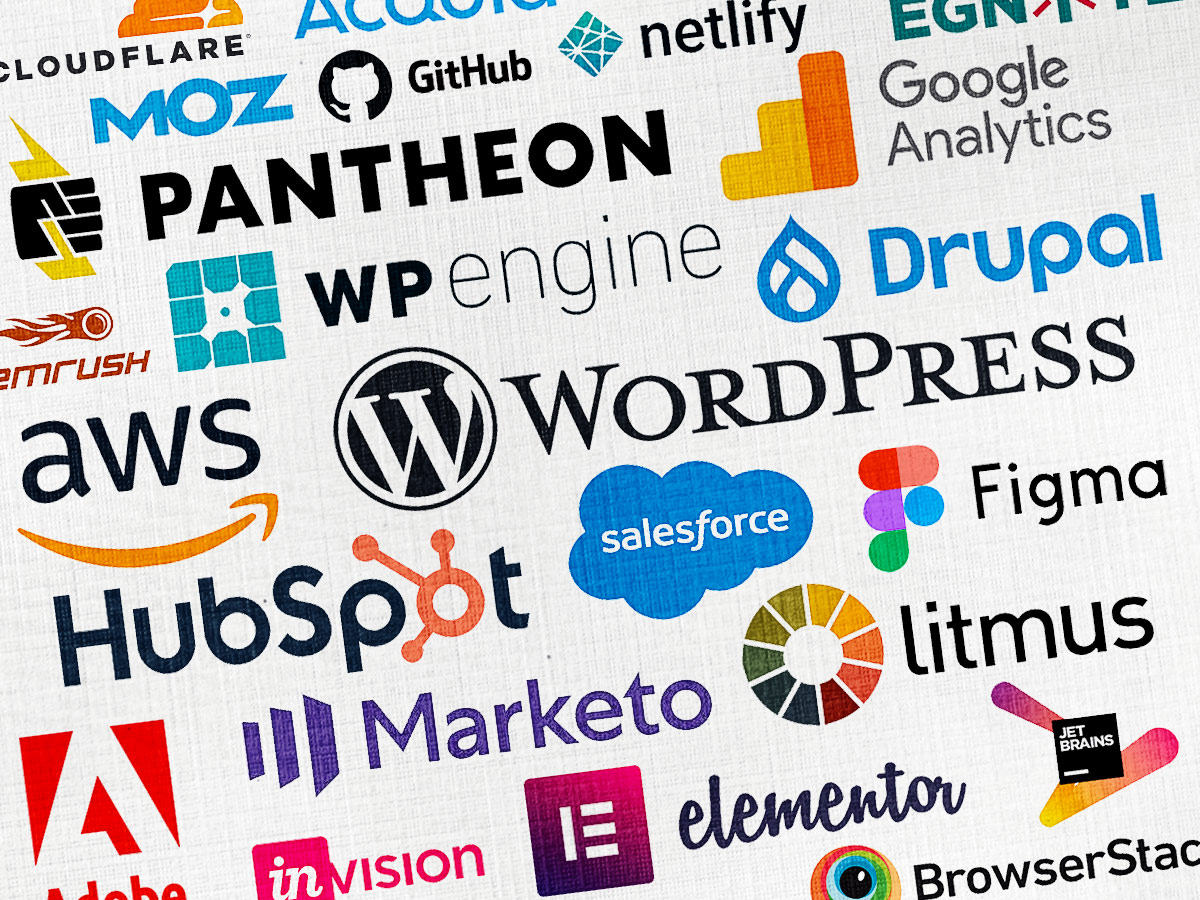 For one, agency life means identifying the right tool for every job – or, at times, inheriting imperfect solutions and working to make them better. Along the way, you use, and learn, pretty much everything. From WordPress to AWS to Salesforce to Google Analytics to Figma, I know my way around a diverse array of digital tools and platforms. I understand their strengths and weaknesses, which ones work well together and which don't. Some are brilliant. Some supercharge workflows and promote collaboration. Others can cause headaches, or send a project down a dead end. Yet others are perfect for exactly one type of build.
Like a woodworker with a shelf full of saws, drills, chisels and planes, I understand which situations call for which tools. (And, of course, I have my preferences.) At Garfield, I brought that opinionated expertise to bear. I began to help the agency develop a T-shaped approach to digital: pursue familiarity and understanding across a broad range of platforms and technologies; foster deep specialization and expertise in a selected few.
Diverse clients, incredible projects.
When I joined Garfield, I expected a rush of work, and a mix of technical requirements (even as we worked to standardize our offerings). But I didn't expect the sheer variety – both technical and topical – that each client presented.
To learn more about Garfield's work and client list, click here to visit garfieldgroup.com →
I helped direct and launch big digital builds for clients across a range of verticals – from education (Discovery Education, McGraw-Hill) to finance (Marlin Capital, 1847 Financial) to media and technology (Kinetiq, 1010Data) to healthcare (Aquity Solutions, Quartesian) to organizations and non-profits (ASTM, Mighty Writers, Urban Tree Connection). For each project, I defined a straightforward build process that, for the first time, included things like template component reference guides, multi-server workflows, dedicated external quality assurance resources and centralized issue-tracking software. These changes, soon standardized and documented processes, helped ensure delivery exceeded client expectations.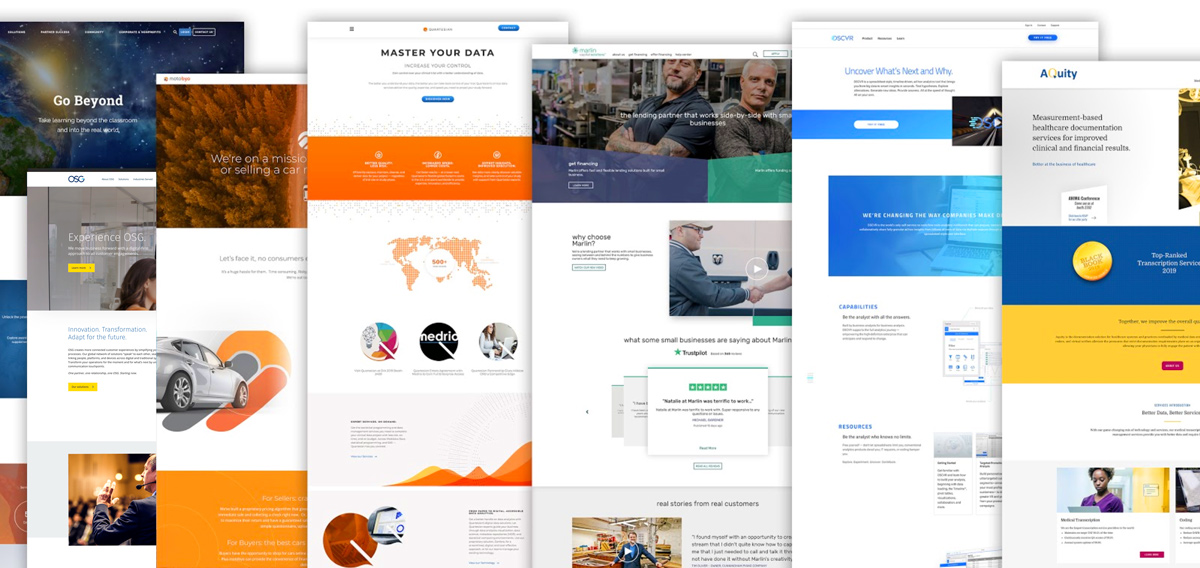 We didn't just build websites; we built relationships. Most of our builds transformed into ongoing development retainers that provided a stable, predictable pipeline of digital work. I communicated directly with clients to help triage and prioritize their digital requests.
A focus on process.
Garfield offered, as some might call it, a blue-sky opportunity to define digital processes and workflow. There wasn't much in the way of digital process at the agency when I arrived. Client projects were built using stacks, and on top of platforms, and with deployment processes, that (as mentioned above) tended to vary wildly. This weighed on the business in several ways. Productivity suffered. The chance to build expertise stalled. Unnecessary risk arose from the lack of documented structure.
While working to keep our production moving, I also implemented high-level changes. First, I centered the agency on a specific recommended stack for digital builds: WordPress with Bootstrap for CMS, Pardot/Salesforce for marketing automation and lead capture, Google for analytics and business intelligence, and Pantheon as a deployment platform. We continued to use, and need, other tech (Drupal, Marketo, Hubspot, WPEngine, AWS/EC2, etc.), especially for clients with whom we had ongoing maintenance relationships, or for clients who absolutely needed specific technologies. Defining our preferred stack, however, afforded many clients a real feeling of relief: the pressure of weighing different options themselves, when many didn't have a strong preference or digital experience, was exhausting.
For Garfield, the benefits were enormous. We were able to standardize most of our builds on a single deployment platform, Pantheon, which made it straightforward to introduce a raft of process upgrades to all clients. These included getting everyone on Git repositories, an automated backup schedule, a dev-staging-live workflow, and a development cadence that included regular patches and upgrades. Many clients had not enjoyed these benefits before, and Garfield was able to own those changes – leading to goodwill, deeper trust and ongoing work. The agency deepened its expertise and became very nimble, especially at getting new projects up and running. It also made the business massively more efficient by enabling us to cut redundant platforms (and hence, licenses, training, technical debt, etc.) from our balance sheet.
I didn't stop there.
I went on to create, and document, an incredibly granular, step-by-step process for all digital builds. This Digital Process doc defined responsibilities and accountabilities across every agency team (design, development, copy, strategy, performance marketing, account and quality assurance) and documented how they would ideally come together on a digital project. The detailed internal version guided processes at the agency; a high-level client-facing version also helped explain our process to the outside world.
Where Garfield had relied on email, documents and spreadsheets to manage development projects, I introduced baseline tools for issue tracking (a hybrid sprint/kanban system using Jetbrains' YouTrack) and implemented it across all clients and projects.
Where Garfield had relied on a mix of internal developers and freelance resources to augment their team, I fostered a relationship with a dedicated third-party development firm to provide on-demand, cost-effective development talent who got to know our processes and clients closely.
And where Garfield relied on a surfeit of older, siloed apps and one-off workflows, I standardized the digital team on a set of modern tools (including Figma for design collaboration, Elementor for visual templating and wireframing, YouTrack for issue triage, BrowserStack and Litmus for testing, etc.).
The result, after just two years, was an ordered, manageable digital landscape.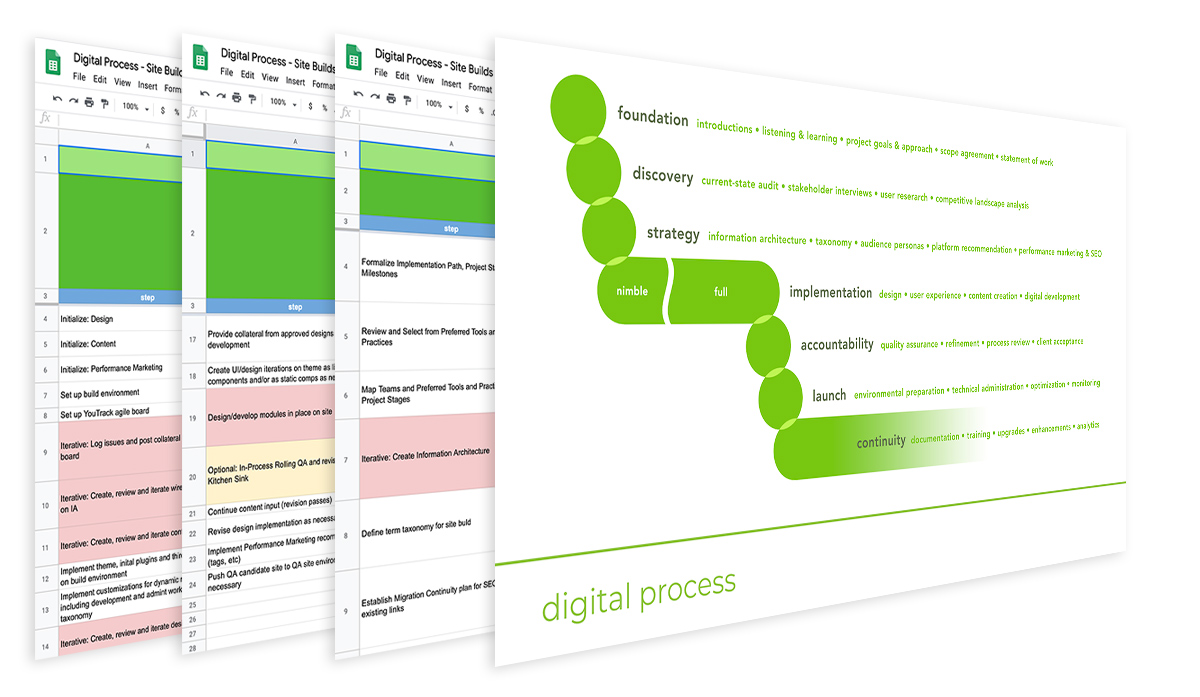 There is a season for everything. The spring of 2020 brought new uncertainty to the world in the form of COVID-19, and  like every industry, agencies were heavily affected. Digital work became unpredictable as clients re-deployed resources and re-prioritized projects. Our office closed. Routines, and life, quickly changed.
Having made a series of foundational changes at Garfield, worked on countless builds, and created a new agency-wide digital ecosystem, I had already reached a natural moment to take stock, and was preparing for my next professional step. COVID-19, and the turbulent nature of digital projects, made it obvious: it was time for a new chapter. During the summer of 2020, on great terms with the team, I moved on to new opportunities.
I'll always be appreciative for my time directing digital projects and strategy at Garfield (and I'm happy to be back working with them as a consultant as they need me). As the world re-starts, they're set to flourish in the digital space – and I'll be watching with pride as they do.